So just sit back, relax, grab a cup of coffee and I'll tell you a Christmas story.  It's the story of this year's hot present, the LOL dolls, my experience, the nightmare and it started in late November at Best Buy….
My wife and I were trolling for a new laptop for me.  On the way out we saw a big plastic-y pink suitcase thing that said "LOL" on it.  My wife said, I've seen this all over, I wonder what it is….  I shrugged, and we went on with my indulgence.
Fast Forward to a few weeks before Christmas…
Annamarie once again saw the LOL thing at Target, and was even more curious as to what it was all about.  We watched an "unboxing" video on You Tube.
So now we knew.  They were little dolls with big heads and the whole idea is that all the accessories are all in little packages and the fun is in opening all the secret little stuff, and reading the secret messages, and all that.  It was a little girl's dream.  We were impressed.
Next came our first experience.  We scheduled a Granddaughter's day with a few of the girls.  Its our annual event.  We get a tree, let the girls pick out the ornaments, lights and all, and then came back to the house to play games, write letters to Santa, decorate and eat lots of goodies.  While getting the tree and stuff, i picked up a small LOL ball for each of the girls.  I had no idea what it was but they were excited.
We got it home and opened them.  The girls did an unboxing video.  The ball had a doll and bunch of secret compartments and accessories.  What fun!  We knew we'd have to get the big set for all of the granddaughters for Christmas….
And this… dear readers…  is where my story begins.
Enter Amazon….
We have six grandchildren.  Five granddaughters and one grandson.  The boy was easy.  One Buzz Lightyear action figure and he was set.  I decided to get the Big LOL doll 60+ Suitcase grand poo-bah thingie for each girl.  Enter Amazon.  I ordered all five, and Amazon assured me that they would all be here on time.
Until three days before Christmas… When only two of them were to arrive, and the rest delayed until after the Holiday.  Back to Amazon.  I ordered three more from a different vendor, and again was assured that they would be here before Christmas.
I took the two that I had received, along with the Buzz action figure and dropped them off with my daughter Julie as we weren't able to get together with the three for Christmas.  Mission accomplished.  Waiting on the other three to arrive. – One did.
The other two were set to arrive on December 23rd….  (Our Christmas get together was set for December 24th).  About 8 pm on the 23rd there was a knock at the door.  Amazon!  I grabbed the box, opened it up…  only one other.  I am now missing the third LOL box.  Panic time.  I contacted the seller, who  says "eh, it happens".  Nope.  Not to me.  GAME ON!
So I start with Target.  Every store in town is out of them.  I order one from a store about 40 miles away, for pickup.  We get in the car and start driving.  Until the message came in from Target that it was out of stock.
Pulled the car over.  Ordered from Walmart, and started driving there.  It was now after 10 pm.  Three Walmarts were out of the Doll.  I pulled over while Anna tried to calm me down.
Then it dawned on me.  Where did we first see the doll package?  BEST BUY!!!!
The only one that still had them was 40 miles in the opposite direction.   And they closed in 20 minutes.  Again… GAME ON.
We grabbed it, rang it in and ran it back home while my blood pressure returned to normal.
My lovely and patient wife then boxed them and wrapped them all – while she also prepped tamales for the following days festivities, and we ended up getting to bed somewhere around 2 am.  I spent most of teh night canceling the many orders i had placed with Target and Walmart.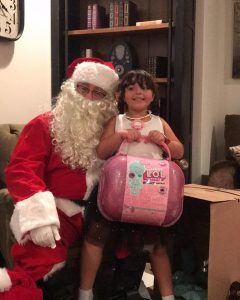 There is no moral to this story, just one crazy situation after another.  But it does have a happy ending.  All five of our granddaughters absolutely loved their Christmas presents, which made it all worthwhile for me, and it was a wonderful and memorable holiday.
Happy Holidays from the Terrys.  Michael and Annamarie.