So. It happened. My baby… MY BABY!!! Got married. October 20, 2019.It still hasn't really sunk in.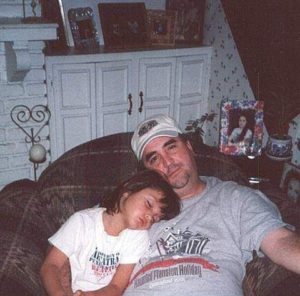 This was my Daddy's girl. This was my mini-me, my shadow, my biggest fan. And poof. Just like that, she's gone. Twenty two years of kissing boo-boos, giving encouragement, teaching life lessons and countless hours of homework…. gone in a four hour stretch.
I remember when she was a baby, whenever she was sick her temperature would immediately jump to 106. EVERY TIME!! I remember the cold showers with her to bring the fever down. I remember calling the fire department when she got her leg stuck in her crib, and rushing her to the hospital when she broke her arm.
I was the guy that took her to Baskin-Robbins every time she had a broken heart, and I was the guy that sat and calmed her nerves when she was auditioning for American Idol….
She was right by my side every October helping to build our Haunted House attraction, she even had her own little tool box. We scared the masses together.
I remember the look of joy when I bought her her first car. And the sadness I felt when that same car brought her her freedom, and she began to spend more and more time away from me.
Mostly, I remember back to the years after my divorce from her mom, and how we made our little apartment home one filled with love. We had each other and we survived a major life trauma together. Those memories I will cherish forever; Being her Color Guard Parent Rep. Getting her Letterman's Jacket and class ring. Taking her to Endless "One Direction" concerts, or chasing her teen idols all over Hollywood or Disneyland.  Most important tho, just hanging out on the couch and enjoying our quiet time, reading a book or watching a movie together.  Priceless moments that were just ours alone.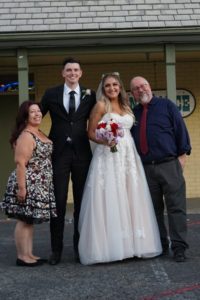 Well, as All kids do, she grew into an incredibly beautiful woman, fell in love and has now closed the "Dad" chapter of her life. She will now spread her wings and begin the adult chapter. She'll buy a home, have children, and begin the cycle anew. Just as I did with her, and my parents did with me.
He's a good man, her husband, Cory. They're going to have a wonderful life together. But it's going to be a hard transition for me. Stepping back in to the shadows and letting another man take the reins. No matter what I've always got the memories. We certainly made our mark in this world. One of Love, Laughter and purpose.
Think I'll have another cup of coffee.
A Few Memorable Moments In Time.