One of our favorite "Must Do" things to do at Disneyland is to hit the Bengal BBQ food kiosk in Adventureland.  These spicy and tasty treats are about the best snack in the park.
One day I said to the cast member serving us, "I'd love to make these at home", to which she replied "Here's the recipe" and handed me the recipe card.
Here is the actual recipe from Disney's own staff.  Enjoy!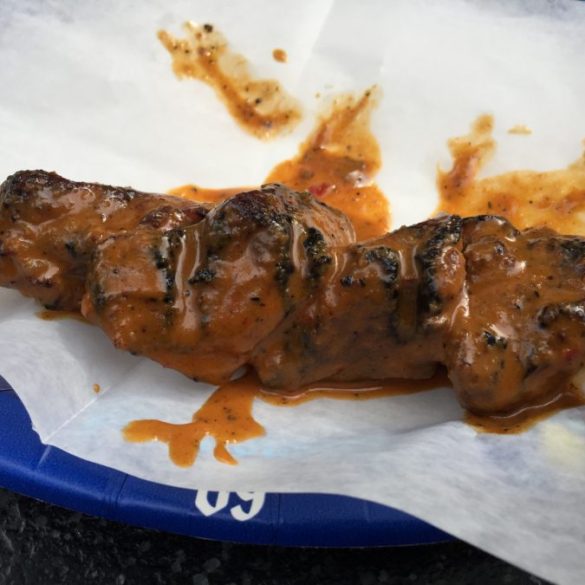 Ingredients
• Soy Sauce: 1 cup

• Ground Black Pepper: 1 Tbsp.

• Cayenne (Red) Pepper: 1 1/2 tsp.

• Garlic Powder: 1 Tbsp.

• Sesame Seed Oil: 3 Tbsp.

• Water: 1 1/2 cups

• Cornstarch: 3 tablespoons

• Wooden Skewers

• Beef Sirloin, cubed 1 Lb. after prep
Instructions
Soak skewers in water for about 20 minutes. Pat dry and set aside. 
Slide 4-5 cubes of beef on each skewer. Place under your oven's broiler for about 15-20 minutes until browned and completely cooked through. 
While beef is broiling make the sauce. Pour soy sauce into a medium sized saucepan. Add in seasoning and sesame oil. Stir well. Bring to a boil.
While waiting for sauce to boil, mix water and cornstarch in a small bowl with a fork. 
Once sauce has come to a boil add in cornstarch mixture. Stir continuously over medium-high heat until thickened. Remove from heat. 
Place skewers on serving plate. Brush with thickened sauce. Serve any extra sauce in a dish for extra dipping.
Notes
I post this recipe cautiously, as Disney actively litigates to protect their brand. However, since I was given the recipe on a copied paper by the cast member working behind the counter, it appears they are not actively protecting secrets. Enjoy!